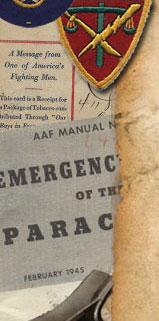 Philadelphia Daily News
Pair Hopes Their Plan to Expand Aviation Museum Takes Off
"I want to stand up and try to preserve something for future generations," said Hagen. "We certainly don't need another shopping mall on 611."
A lot of the background and development of aviation came right through this area. For instance, the first helicopter and the first propeller-driven fixed-wing airplane were developed at Willow Grove, and Amelia Earhart flew out of the station.
Read more: philly.com
---
Bucks County Courier Times
Keeping Planes Grounded at Museum is Goal of Group
Work is under way to reach a deal that would keep the Wings of Freedom aircraft museum after its host vacates the Navy base. If terms of a lease agreement aren't nailed down by Feb. 11, museum representatives say there is a chance about half the planes could be shipped out.
Read more: phillyburbs.com
---
Smithsonian Magazine
Swamp Ghosts
A journalist's quest to learn more about his father's death in New Guinea in 1942 leads him to another World War II casualty: a U.S. bomber that crashed there the same year
Papua New Guinea—or PNG as it's called' sometimes with affection' sometimes in exasperation—is the kind of place tourist brochures describe as "the land that time forgot." It would be just as accurate to call it "the land that forgot time."
Read more: www.smithsonianmag.com
---
Oshkosh 365
Bucks Bizman Recovers B-1
by Julie Shaw, Philadelphia Daily News
Read more: Bucks bizman recovers B-17
---
Philadelphia Inquirer and Daily News
Swamp Ghost B-17 Video

Watch Trailer: Broken Wings Trailer
---
Tulsa World
Crashed WWII bomber returned to U.S., restored
The "Swamp Ghost" is displayed at the Port of Long Beach.
Read here: Tulsa World
---
Los Angeles Times
Aircraft enthusiasts take a trip back in history at Long Beach Airport
Read more: Aircraft enthusiasts take a trip back in history at Long Beach Airport
---
Press Telegram, Long Beach, CA
B-17 that crashed in 1942 will be in Long Beach Friday
Read more: B-17 that crashed in 1942 will be in Long Beach Friday
---
Digital Journal
Famous B-17 Flying Fortress Going Home after 68 Years

Read article: Famous B-17 Flying Fortress Going Home after 68 Years
---
History Channel Store
B-25 Down: Hunt for a Hero (DVD)
Go to site: History Channel Store
---