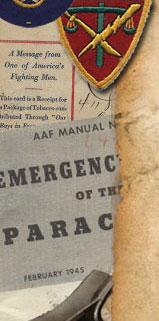 About Swamp Ghost Salvage Team

David C. Tallichet (1922 - 2007)
Specialty Restaurants Corporation founder,
World War II B-17 pilot, and antique
aircraft collector
Born in Texas, the late David Tallichet was an iconic Orange County businessman who founded Specialty Restaurants Corp., an empire of themed restaurants around the country. The Reef in Long Beach, Calif. was the first of his many restaurants that remain successful today after the passage of over half a century.
Before becoming a successful entrepreneur, David was a young B-17 pilot flying out of England with the Bloody 100th Bomb Group during World War II. He never lost his love of aviation or passion for his combat aircraft, the venerable B-17 Flying Fortress. His military flying memories inspired him to collect and restore warbirds and bombers, and eventually amass the largest collection of privately-owned and flying World War II aircraft in the world. In the mid-1980s, David initiated efforts to recover the B-17E Swamp Ghost from a remote New Guinea swamp and return this historic relic of military aviation to U.S. soil.
In 1989, David piloted a fully-restored B-17 Flying Fortress across the north Atlantic to appear in the title role of the movie ³Memphis Belle,² about the first U.S. bomber crew to fly 25 missions in Europe during World War II.
David passed away at his home in Orange, Calif. on Oct. 31, 2007. Sadly, he did not live to see Swamp Ghost liberated from the depths of a primitive New Guinea swamp and returned home ­ a dream that was fulfilled in 2010 by the ongoing efforts of his family and aircraft salvage enthusiast Alfred Hagen. David is survived by his wife Carol and four children, including John Tallichet who is president and CEO of Specialty Restaurants Corp. The Tallichet family remains committed to the preservation of Swamp Ghost and is proud to host the U.S. unveiling of the legendary aircraft as a tribute to David's life work and America's war heroes.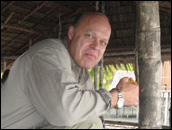 Alfred Hagen
Aero Archaeology founder,
businessman and aircraft recovery enthusiast
Alfred Hagen, a successful Pennsylvania businessman and historical aircraft enthusiast, shared David Tallichet's vision of salvaging Swamp Ghost. They joined forces in the late 1990s in what would become a 25-year quest to recover and preserve this historic relic of aviation history. Fred carried on David's work and is proud to present Swamp Ghost at the site of his friend's first restaurant, The Reef.
Fred has an extensive history in Papua New Guinea. He traveled there in 1995 in search of the B-17 crash site of his great uncle, Maj. Bill Benn, which he found four years later. Along the way, Fred enjoyed the incredible privilege of locating seven missing airplanes from World War II, in addition to discovering his great uncle's aircraft. He has helped return over a dozen U.S. airmen missing in action to the U.S. for burial with full military honors. A documentary related to his search for missing airmen currently plays on rotation on History Channel networks worldwide. Future generations will be indebted to Fred for his unique contributions to the preservation of military aviation history.